【General Information】
Comparing with ship related survey, cargo related survey has remarkable characters of broad surveying locations in addition to port cities, and the special requirements on the attending surveyors who are not required to be experts in every industry, but should be rich experienced on the safe transportation measures, the skills dealing with different kinds of cargo damage, as well as necessary salvage handling.
Being an exclusive member of the TMN Survey Group (TMN Survey Group is a professional network of surveying companies with its own agents covering the most parts of the world. Acting on behalf of insurers, brokers, forwarding companies and numerous branches of industry, network members are able to instruct the agent in the country in question, meaning that surveys can be held and monitored all over the world with correspondence and the survey report in the required language.) in China, CCTM would be helpful to those overseas transportation insurers who are seeking for a localized survey service provider in China and at the same time, could take the Group's advantage to domestic transportation insurers who would be served by local agency, but with business all over the world efficiently.
Even though cargoes under survey are all kinds of things, depending on the nature of business, we could divide our cargo related survey into two big sections which are hereinafter summarized as what we can do for our clients.
【Our Service】
Loss Prevention Survey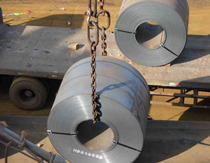 Loss Prevention Survey For pre-shipment survey, the most important part of loss prevention surveys, no one should be right person more than ex-master mariners. The master mariner surveyor in CCTM could provide professional advices on cargo's inland handling, lifting, stowage, and securing on board with the aim of reducing loss ratios and business disruption. The role is played especially importantly for those heavy cargo or high value cargo.
The cargo loss prevention survey CCTM has experienced relates to
Steel product: Steel plate, hot rolled coil, wire rod in coil, steel pipe, cold rolled coil, H-beam, channel, angles, square pipe, round bar, ductile pipe, etc.
Heavy cargo: steel structure, blade for wind power, hydraulic crawler crane, truck, pressure tank of vessel, transformer, cylinder, and other equipments, etc.
Bulk cargo: ore, corn, pure concentrates, coal, fertilizer, etc.
Our job is primarily to focus on following aspects:
Understand what's the client's need? Different client has different detailed survey requirement and report format which must be followed by attending surveyor.
Monitor and record the whole process of cargo stuffing/de-stuffing and/or loading/discharging, and give necessary comments when any action not applicable for the intending transportation is arranged, such as cargo hold is not worthiness for cargo carrying, the lashing and chocking condition in a container is not sufficient for long-distance sea transportation, etc.
Report any defects/deficiencies to the client as soon as possible and/or help chief mate to clause Mate's Receipt when instructed by P&I.
Cargo Damage Survey
Cargo Damage Survey is usually representing the insurer of shipper, packing company, forwarder, carrier (ship owner) or consignee. The purpose is to ascertain the nature, cause and extent of cargo damage. Through the analysis and supporting documents to the whole process of transportation, surveyor should comment on where the damage happens in an utmost probability. As well, the supporting documents on recovery cost or total loss must be obtained and examined for their rationality in order to approve the alleged claims to protect clients' interest.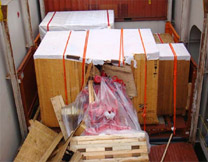 The cargo damage survey CCTM has experienced relates to
Electrical equipment for auto industry, Gear grinding machine, Plastic drum machine, Testing equipment for train body, PVC machine, Mould for auto manufacturer, Semiconductor equipment, Equipment for paper manufacturer, Printer, Auto parts, Musical Instrument, Food, Pharmaceutical, etc.
Our job is primarily to focus on following aspects:
Do surveyor's utmost to understand how the cargo is transported from the shipper to the consignee and collect relevant information.
Clearly descript the out packing material appearance at the consignee's end and the damaged cargo situation.
Analyze how the damage happens and reasonably evaluate the cost of loss as well as assess the residual value of cargo, if any.
【Our Client】